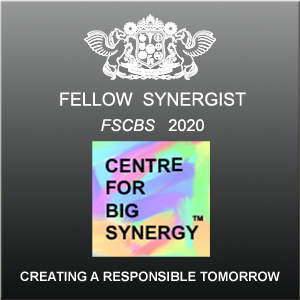 Many congratulations to all the 2020 Honorary Fellows of the Centre for Big Synergy
---
On 25th of October 2020, the second International Day for Synergy was celebrated by CBS to recognise the accomplishments of these outstanding synergists from across the world.
The tireless initiatives of these celebrated synergists have positively impacted hundreds and thousands of lives, and directly and indirectly have affected us and the planet. They are inspirations to millions; synergists of CBS as well as others who are following in their footsteps.
CBS is delighted to recognise the contributions of these stalwarts and is excited to find out more about their future accomplishments.
Chris Hena (Liberia)
Chris Hena is a medical missionary who spent decades implementing successful community-based healthcare programmes. Dr. Chris is constantly working to reform the Liberian healthcare system through an initiative called "Healthy Women, Healthy Liberia." She developed the framework for the Liberian health education initiative which is being executed by organising communities to identify and implement preventative care programs unique to each community, with a specific focus on improving maternal and infant healthcare, improving the nutritional status of women and children, restoring and maintaining community water and sanitation, and reducing the incidence of non-communicable diseases.
Find out more about Healthy Women, Healthy Liberia and see how you can support her mission.
Malizole Banks Gwaxula (South Africa)
Malizole "Banks" Gwaxula is a teacher and community leader in Port Elizabeth, South Africa. He is the co-founder and Senior Advisor of Ubuntu Pathways, a non-profit organisation that provides an integrated support system of health, education and social support in the townships of Port Elizabeth. What makes Ubuntu innovative is that it redefined mainstream development models by focusing on the depth rather than breadth i.e. rather than expanding geographically, Ubuntu drew a perimeter around a community of 400,000 people and ensured that a vulnerable child's life could fundamentally change by providing him/her the chance to succeed in the worlds of education and employment.
The Ubuntu Model has become a blueprint for organisations around the world that strive for culturally appropriate, community-based development.
Find out more about Ubuntu Pathways and see how you can support his mission.
Beatrice Savadye (Zimbabwe)
Beatrice Savadye is a human rights activist who has been working in the field of sexual and reproductive rights for women and young people at both national and international level.

Along with advocating for a dignified future for girls and young women through her collaboration with different organisations since 2012, Beatrice is the current director for Real Open Opportunities for Transformation Support (ROOTS), which has the goal of promoting social and economic justice for young people in Zimbabwe. This organisation is running the "Not Ripe for Marriage" Campaign on ending child marriages in Zimbabwe, which has contributed to the ban of child marriage through a ruling by the Constitutional Court since January 2016.

Coming from a poor background, Beatrice experienced herself the adversities that marginalised young people have to face daily and especially young women, who have troubles in finding affordable sanitary wear. She did not want to remain indifferent to this situation: not only did she start a campaign to promote readily accessible and affordable sanitary towels for girls in Zimbabwe, but she also encouraged the Government to remove a 15% tax charged on feminine hygiene sanitary wear.
Find out more about ROOTS and see how you can support her mission.
Judith Kitinga (Tanzania)
As a gender activist, Judith Kitinga has the mission to change the difficult conditions of girls and women in Tanzania. More specifically she makes efforts to end the issues of gender-based violence and all kinds of inequalities existing in communities between men and women. Locally to her, she has been involved in many projects, such as the Restless Development Tanzania where she was a Youth Accountability Advocate volunteer for the Tutimize Ahadi Project, a programme that addresses gender-based violence and violence against children, and which embodies the commitments by governments, the UN and other bodies to achieve the 2030 Agenda for Sustainable Development. At the international level, Judith brought her advocacy to the United Nations High Level Political Forum (UNHLPF) 2018, in New York.
Find out more about the Tutimize Ahadi Project and see how you can support her mission.
Hermella Wondimu (Ethiopia)        
Hermella Wondimu is the President and co-founder of Drop of Water, an organisation which seeks to provide clean, safe water to people in rural communities of Ethiopia. Hermella founded Drop of Water while she was studying Civil Engineering at Mekele University, where she came to learn that – due to lack of clean water supply – many children die before reaching the age of five and women toil in hardship fetching water from long distances in rural parts of Ethiopia. After obtaining her degree, she dedicated her life in finding solutions to provide clean water to those in need. One of her many projects with Drop of Water involved the construction of five water wells in Northern Ethiopia, ultimately providing safe water to over 6,000 people. In 2014, a further 20 water wells were built.
Find out more about Drop of Water and see how you can support Harmella's mission.
Kriti Bharti (India)    
After working with vulnerable children and women, Kriti Bharti realised that there are many issues in society needing a grass root level intervention and a direct operation. Inspired by this, in 2011 she founded Saarthi Trust to fight against child marriage in India. The organisation helps to put an end to child marriages and provides counselling to children and families, as well as rehabilitation to these children. Thanks to her efforts, Kriti has managed to annul more than 29 child marriages and stop over 850 more. She has also rehabilitated more than 6,000 children and 5,500 women.
Find out more about Saarthi Trust and see how you can support Kirti's mission.
Asseny Muro (Tanzania)
Asseny Muro has always campaigned for gender equality and women rights in Tanzania. In 1993, Asseny co-founded Tanzania Gender Networking Programme (TGNP), an organisation built on transformative feminism, which aims at eliminating all forms of discrimination against women and other marginalised groups, whether due to class, sex, gender, age, ethnicity, disability, geographical or nationality. As the current Chairperson of TGNP, Asseny and her organisation contributed to raising awareness about gender equality in Tanzania, which is now seen as a development issue recognised by the laws, policies, structures and national programmes. Thanks to TGNP work, women representation in Tanzania improved considerably.
Find out more about Tanzania Gender Networking Programme and see how you can support Assney's mission.
Kel Sheppey (Zimbabwe)
Kel Sheppey is a Zimbabwean who grew up in southern Africa where, through first-hand experience, he realised that people in the rural parts of Africa have little access to almost everything. Developing a deep empathy for the needs of rural African communities, he decided to leave a successful corporate career in San Francisco to focus his efforts full-time on establishing Wild4life (founded in 2008).

Wild4Life is a non-profit organisation that has the goal of delivering HIV prevention and treatments for other diseases (e.g. pneumonia) to people living in Zimbabwe (and other Sub-Saharan African rural areas), including children and pregnant women who need early pre-natal care. Thanks to the help of W4L and by working closely with the government, the gaps in local health systems are efficiently identified and filled. Over the years, the number of people receiving treatments in rural areas have increased considerably, from the point of view of access to care, quality of care and array of services.
Find out more about Wild4life and see how you can support this mission.
Andrew Youn (Rwanda)
Andrew Youn has lived in rural Africa for the past 11 years, learning from the largest group of underprivileged people in the world: smallholder farmers. When he first visited Kenya in 2006, Andrew was an MBA student who knew very little about farming. During that first trip, he met two farm families. One family was harvesting two tons of food on a single acre of land and thriving; the other was going hungry. He decided to found One Acre Fund with the goal of providing environmentally responsible seed and fertilizer delivery and financial and agricultural training.

The organisation serves one million farm families each year, providing them with the financing and agricultural training they need to increase their yields and climb out of poverty. On average, farmers in One Acre Fund's program increase their income by about 50 percent. Youn is also the cofounder of D-Prize, an organisation that funds early-stage startups that are innovating better ways to distribute proven life-enhancing technologies.
Find out more about One Acre Fund and see how you can support it.
Chizoba Barbara Wonodi (Nigeria)
Chizoba Barbara Wonodi is a public health physician and vaccine advocate who is making efforts to improve primary health care systems in Nigeria. In 2011, she founded the Women Advocates for Vaccine Access (WAVA), a coalition of women-focused civil society organisations in Nigeria advocating for increased routine immunisation and sustainable vaccine financing. She is also the principal investigator for a Gates Foundation project to increase immunisation uptake by sending SMS messages to educate and remind caregivers of their child's vaccinations. With over 27 years of experience with projects in Africa, Asia, and America, Dr. Wonodi is making great strides in achieving fairness and equity in global health.
Find out more about the Women Advocates for Vaccine Access and how it can improve the lives of all of us.