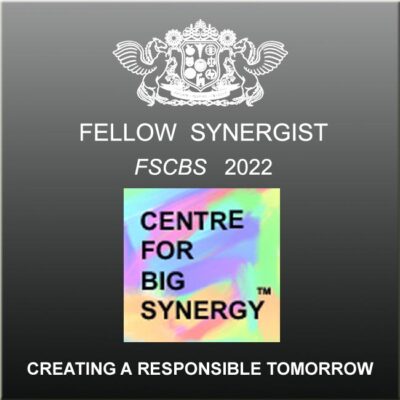 Many congratulations to all the 2022 Honorary Fellows of the Centre for Big Synergy
---
On 25th of October Centre for Big Synergy celebrates International Day for Synergy to recognise the accomplishments of outstanding synergists from across the world.
The tireless initiatives of these celebrated synergists have positively impacted hundreds and thousands of lives, and directly and indirectly have affected us and the planet. They are inspirations to millions of others who are following in their footsteps.
CBS is delighted to recognise the contributions of these stalwarts and is excited to find out more about their future accomplishments.
Michelle Desilets (UK)
Michelle Desilets has been working alongside Lone Droscher Nielsen in orangutan conservation for over 15 years. In 1994, Michelle took her first trip to Borneo, as a volunteer-tourist at the Tanjung Puting National Park. In the years that followed, she continued to visit Borneo as a volunteer for as long as 4 months at a time. The Orangutan Land Trust is a UK charity with the objective of providing sustainable solutions for the long-term survival of the orangutan in the wild by ensuring safe areas of forest for their continued existence. A major objective of Orangutan Land Trust is to secure the river island known as Salat Island in Central Kalimantan to provide habitat in which orangutans undergoing the rehabilitation process can refine their skills before being released in the wild. Additionally, a part of this island can serve as permanent sanctuary for those rescued orangutans who can never be released, such as those with chronic disease or disabilities.
Find out more about the Orangutan Land Trust and see how you can support their mission.
Bina Rani (India) 
Bina Rani is the Founder and current Chief Executive of iPartner India. iPartner India is a non-profit organisation that is at the forefront of a new kind of philanthropy. They provide a platform for donors, who are committed to making a difference, discover and connect with a wide range of inspiring and high-impact grassroots level projects in India. iPartner India offers the Asian diaspora in the UK a chance to get involved and contribute to creating a more just and equal society in India. Since 2009, iPartner India has worked closely with both partners and donors to create some of the most effective and beneficial partnerships bringing positive change to local communities. Currently, they have a network of 110 partner grassroots NGOs across 20 states in India. Throughout her career, Bina Rani has been committed to both the people in the field and to those who wish to have a more genuine link with the projects they donate to.
Find out more about iPartner India and see how you can support its mission.
Peter Horn (UK)
Peter Horn directs The Pew Charitable Trust work on ending illegal fishing, bringing together policy, technology, and enforcement initiatives to legislate against this practice and prevent or stop it at sea. Peter joined Pew in 2015 after serving for more than 30 years in the British Royal Navy, where he reached the rank of commander. He served in the Fishery Protection Squadron as well as strategic planning and intelligence. He also commanded HMS Middleton and led deployments throughout the Atlantic, Middle East, and parts of Asia. He was invested as a Member of the Most Excellent Order of the British Empire in 1998.
Find out more about the The Pew Charitable Trust and see how you can support Peter's mission.
Emiko Ito (Japan)
Emiko is the director of the National Parents Network to Protect Children from Radiation. The Children's Nationwide Internet is based on the transmission of various information necessary to protect children from radioactivity, based on the exchange of information between individuals and groups inside and outside the network, study sessions to expand connections, and with other groups. The Children's Nationwide Network will continue to engage in ongoing activities while gathering and learning from domestic and overseas knowledge while connecting with groups and individuals working nationwide to protect children from the effects of radioactivity, which will continue for a long time.
Find out more about the National Parents Network to Protect Children from Radiation.and see how you can support its mission.
Veronika Cejpkova (UK)
Veronika Cejpkova founded Whisper in 2009 after travelling to eight African countries and witnessing how these vulnerable people live. She noticed the risk and care coming with doctor visits to children, and realised the vulnerability they are succumbed to. Whisper is a charity that helps save lives of the most vulnerable children in Uganda. They opened a rehabilitation home with nursery classes for malnourished, abused children and new-born orphaned babies in May 2010. In 2018, the hospital moved to its current 47 bed premises and opened a maternity ward.

Highlighting the importance of collborations and the power of synergy, Veronica commented, "After impacting close to 70K children through subsidised medical treatment at Whisper's Hospital, we realised that there is an extremely limited access to outstanding paediatric care and hardly any access to specialised medical access for children. This is why, we continue changing healthcare through love & happiness in Uganda and around the world, so we collaborate with international organisations and individuals in accordance to the Uganda Ministry of Health guidelines to ensure that constant improvement in all areas of health care, so together we turn the weakness in our healthcare into opportunities that will instil confidence in Ugandan people. Whisper is currently having its first opening for nursing students to pursue a diploma in general nursing where international and national curriculums are available to them with our charity organisation."
Find out more about Whisper and see how you can support it.
Brisa De Angulo (Bolivia)              
Brisa De Angulo began her career as an activist and advocate for social justice at a very young age. Growing up in Cochabamba, Bolivia, she realized how badly children were treated in the public schools and told her parents that she wanted to create a better alternative.Since the coronavirus lockdown began in Bolivia, Brisa De Angulo's charity (A Breeze of Hope) for sexually abused children has received hundreds of telephone calls from girls trapped in homes with their abusers. The lockdown in Bolivia, like other quarantines imposed across Latin America, has raised issues of incest and child sexual abuse in a region already ravaged by high rates of sexual violence and teenage pregnancies caused by rape. In Peru, more than one girl a day was raped during the first 17 days of quarantine, government figures showed. For the last 15 years, Brisa has worked with healthy childhood development, and for the last 12 years she has worked to prevent sexual violence against children and adolescents. She is a recognized expert in South America on the topic of child and adolescent sexual abuse and regularly works with attorneys, prosecutors, judges, psychologists, social workers, and police to improve their case management systems. Brisa is also a well-known public speaker, having given workshops and conferences at several universities and non-profit organizations, both in the United States and abroad. Her public speaking focuses on the dynamics of sexual violence and the many traumatic consequences that result from it for the individual, the family, and society as a whole. Brisa is the author of a landmark study on sexual violence in Bolivia and co-author of several books on sexual violence, human rights, and early childhood development. Her academic work on sexual violence against female adolescents in Bolivia provided the framework for a thematic hearing presented to the Inter-American Commission on Human Rights in 2012.
Find out more about the A Breeze of Hope and see how you can support its mission.
Bernadette Adeyilek-Tracz (UK)
Bernadette Adeyilek-Tracz has been working in the pharmacy/diabetes sphere for over 10 years. She founded the Diabetes Africa foundation at the start of 2019. Diabetes Africa is a non-governmental organisation (NGO) with a vision of eradicating diabetes and diabetes-related diseases in people living in Africa, and in people of African origin, globally. It operates as a network linking professionals and decision-makers from governments, international organisations, donor agencies, non-profit, business and academic institutions at the regional and international level. The work of Diabetes Africa is articulated around three core topics: policy, research and access to medicines. Diabetes Africa seeks to identify and promote innovation and innovators by leveraging a network of professionals and experts active around the world. Their fast-growing membership includes 400+ healthcare professionals and business executives.
Find out more about Diabetes Africa and and see how you can support their mission.
Gülsüm Kav (Turkey)
Gülsüm Kav is a Turkish doctor and activist who co-founded We Will Stop Femicides, a grassroots platform where female volunteers fight against gender-based violence and impunity. More than 2,600 women have been killed in Turkey in the past decade. We Will Stop Femicide Platform works to eliminate violence against women and femicide in Turkey. The platform collects and shares monthly data on murders of women in Turkey, which has been increasing every year. In addition, they monitor court cases on femicide, violence against women and sexual abuse of women and organise public awareness campaigns on these cases. According to the Platform, records show that the number of women murdered in Turkey has doubled since 2012. Turkey was the first country to sign the 2011 Council of Europe Convention on preventing and combating violence against women and domestic violence, or the Istanbul Convention.
Find out more about the We Will Stop Femicides and see how you can support its mission.
Lee Todd (UK)
Lee Todd has over 30 years' experience in the footwear industry, starting as a sales assistant for the British Shoe Corporation before becoming the youngest manager in British Shoe History at only 17. Since its foundation in 2010, Shoe Aid has been distributing close to 1.4 million shoes worldwide and has been working with some of the largest organisations in the UK to reduce shoe poverty and reduce footwear waste and its impact on the environment. Shoe Aid was approached by Keep Britain Tidy & Eco Schools to educate children on the importance of recycling and re-using old and unwanted footwear. Having begun with a sample of 100 schools, they have been asked to go into 17,800 Eco schools across the UK.
Find out more about the Shoe Aid and see how you can support its mission.
Joseph Gitler (Israel)           
Leket Israel – a the National Food Bank, is a unique food rescue organisation in Israel that rescues healthy, surplus food and delivers it to those in need through partnerships with non-profit organisations. Leket Israel was established in 2003 when Joseph Gitler started rescuing meals from catering halls and corporate cafeterias out of his Subaru car. The meals were stored in refrigerators lining his driveway before delivery to local non-profit organisations serving the needy.
After years, Joseph's organisation has made a positive impact on preventing food waste, and today it is Israel's largest food distribution network. The food rescued by Leket Israel is distributed to 263 non-profit organisations, including homeless shelters, soup kitchens, elderly centres, battered women's centres, community help organisations, and schools for at-risk youth. These non-profit partners serve the food to approximately 223,000 Israelis in need every week, regardless of age, gender, religion, or ethnic background.
In 2021, Leket Israel rescued 55 million lbs. of fresh agricultural produce and 1.7 million cooked meals from hotels, corporate cafeterias and IDF army bases.

Commenting on the power of collboration and the synergy, Joseph commented, "No successful initiative is created in a vacuum. Leket Israel depends on its partners both in Israel and around the world to support its mission and ensure that quality nutritious surplus food is rescued and distributed to those who need it most. By collaborating with our non-profit partner agencies, we are able to distribute far and wide throughout the country. As the Israeli representative for the Global FoodBanking Network, we work with food banks around the globe to share best practices and work together to establish food banks, serving those in need. Learning to change with the times is what helps propel Leket forward."
Find out more about Leket Israel and see how you can support the mission.
Michael Glendinning (UK)
Michael Glendinning is the founder and Director of Connect: North Korea. Before starting the organisation, he was the co-founder and Director of the European Alliance for Human Rights in North Korea. He is also the founder and Director of the Korea Future Initiative, a London-based not-for-profit focused on documentation of human rights abuses. Michael has been involved in North Korean human rights since 2009. Connect: North Korea facilitates specific support initiatives for North Korean refugees in the UK. The organisation is an independent, non-religious, and non-political registered charity founded in 2017 and based in New Malden, London – home to the largest exile community outside of Asia. A few hundred North Koreans live in the UK, but most have no family, no support system, no homes, no jobs and no prospects when they arrive there, having fled an extremely dangerous country, where they had little knowledge or access to the outside world. Connect: North Korea raises funds to meet their needs through facilitating support services to help these political refugees to integrate into British society and reach their potential.
Find out more about the Connect: North Korea. and see how you can support its mission.