Five year old CBS volunteer writes to 193+ world leaders requesting them to integrate UN Global Goals in school education.
Category: Press release | Date: November 1, 2021 |By: Centre for Big Synergy, London. UK.
---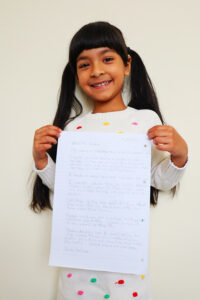 This summer, CBS volunteer, 5 year old Moksha Roy, took up the arduous task of writing to the US President, the British Prime Minister and all other 191 world leaders requesting them to ensure that children starting as young as her are made aware of the 17 United Nations Sustainable Development Goals (UN SDGs commonly known as Global Goals; the UN's blue print for a fair, secure and sustainable future) through their school curriculum and are also taught to act on those goals through everyday activities.  She thought of doing this when she found out that none of her friends and children she plays with are aware of these goals.
She has also written to the First Minister of Wales, the First Minister of Scotland, the First Minister of N. Ireland and the Mayor of London, requesting the same. She had to post just one letter and that was to the Pope.
In response to Moksha's letters, the governments, PMs and Presidents of Germany, Canada, Namibia, Malta, Trinidad and Tobago, St Vincent and the Grenadines, Portugal, Norway, Serbia, St Lucia, San Marino, Jamaica, Scotland, Wales, N. Ireland, Belgium and Austria have expressed their commitment to the Global Goals and have identified the importance of Moksha's request. 
While some countries, like Grenada, have responded indicating that they will surely review their school curriculum to integrate the Global Goals in it.
She is now seeking support for her initiative from the Secretary-general of the United Nations, Mr. Antonio Guterres and the Deputy Secretary-General & Chair of the United Nations Sustainable Development Group, Ms. Amina Mohammed.
On the personal front, many of Moksha's friends and family have now started following her example of doing small things in their daily lives to make a difference (egs: saving water and power, planting trees and wild flowers, offering sugar water to save the bees, buying less clothes and toys, not buying plastic toys, recycling and donating things, giving up her birthday gifts to fundraise for less fortunate children in the worst affected countries, etc.). In essence, Moksha wants every child to become a well-informed 'climate superhero' who can act as positive influencers for their friends and family. She believes small actions from each of us can make a big difference to the world.
##END##
For media enquiries please contact the Centre for Big Synergy via this link.