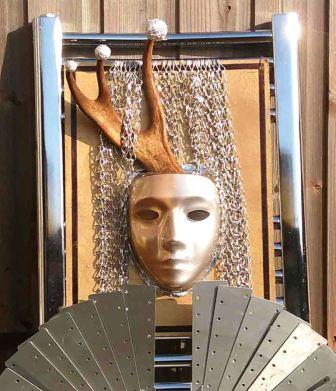 Syn Art 2030 is an international art and creativity movement involving budding, amateur and professional artists and art enthusiasts to create outstanding functional art made from waste and found objects with particular emphasis on using non-recyclable plastic waste. 'Syn Art 2030' aims at synergy of novel ideas to turn plastic and other waste into pieces of art. Ideally, these pieces of art should meet one or more purposes for use, but non-functional pieces of art made of plastic waste or other found objects or waste are equally welcome! The idea is to create all such art forms with minimal or no additional carbon footprint or environmental damage at all. The movement aims not only at inspiring people to make, collect and use such art forms but importantly to draw everyone's attention to the fact as to why such art is being created in the very first place; hence, be more thoughtful when deciding to use plastic or producing other non-recyclable waste. The project will culminate in country wise competitions for the best 'Syn Art' artists, who will be awarded with the Big Syn Art Awards.

UN SDG: 12
Status: Paused
How can you participate?
Join us to be a synergist and an Official Ambassador for Syn Art 2030; spread the message around the world via your social and professional contacts, get involved with or help organise local projects to create and popularise Syn Art, be a global influencer to create more changemakers, and be awarded and recognised for your contributions.
1. You can create, celebrate and collect art made from waste plastics or other non-recyclable waste to encourage others do the same and pass on the message as to why you are doing so. Post pictures of your art or collections on your website (if you have one) or on social media platforms and don't forget to hashtag those with SynArt2030 so that your work can be entered in the annual SynArt competitions.
2. If you do not intend to make art yourself, but would like to assist someone or pass on the message to someone about Syn Art 2030, please contact such artists and organisations directly. They can be easily found on social networking websites.
Find out more details about the project below.
Inspiration
CBS believes in challenging creativity to a confinement of medium to trigger really innovative and clever art. When such art is made of non-recyclable plastic, the piece of art in itself is a message for everyone to stop and ponder about how they use plastic and stop plastic waste altogether. This philosophy was the inspiration of Syn Art 2030, a movement to primarily use non-recyclable plastic to create high quality art forms or functional art in particular, but also to celebrate art created from other waste or found objects.
Action
There are several amateurs and professionals alike who are already global leaders in creating wonderful art from waste or non-recyclable materials. More such artists and enthusiasts are needed to create more such art and spread the idea amongst the rest of us. The Syn Art 2030 project will be implemented via social media and art networks and will culminate in country wise annual awards for the best creations and the best influencers as well.
Impact
A picture speaks a thousand words and so does a clever piece of art. Art has always acted effortlessly to start a dialogue and Syn Art 2030 intends to instigate the same through these creations. A piece of art made of waste plastic or found objects will make people pause to ponder about the reason for such art, the significance of materials used in making the piece of art, and the harmful impacts of producing and using more and more plastic or other non-recyclable waste. The intended impact would be for people to revisit their use of plastics on a daily basis and reduce it as much as possible while they celebrate art that intends to repurpose plastic and spread the consciousness all around the world.