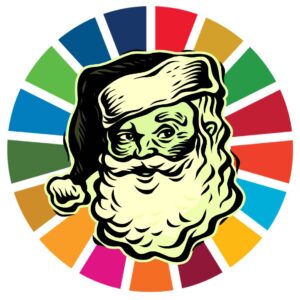 The 'Plastic free Christmas 2021' competition is part of a United Nations Global Goals initiative, Microplastic Free 2030.
Microplastic Free 2030 aims to educate 1 billion children across the world about microplastic pollution and ways to stop it.
Competition details

Free to enter. Prizes worth over £500.
Why Plastic Free Xmas?
When we throw away plastic items, these break down into tiny bits and particles of plastic, called 'microplastics'. Microplastics from the environment get into our food, air and water, harming us, the marine creatures and other animals. Microplastics are likely to cause diseases in human beings and are therefore harmful to our health. Recycling plastic is not the solution to this problem and just allows more plastic to be produced. If not all, most of the plastic made is not recyled and ends up in land fills and oceans.

FIND OUT WHY plastic pollution is one of the biggest contributor to global warming, and hence climate change.
See the video below to learn more about microplastic pollution.
What to do
Everyone under 18 should seek the permission of their parents/guardians to participate in the competition.
---
Ages up to 7
Write a letter to Santa asking for planet-friendly gifts that are not made of plastic, not even 'recyclable or compostable plastic', if possible. Most recycalable plastics do not get recycled and compostable plastics do not get composted in landfills (special machines are needed for composting).

OR

Draw a picture for Santa to show your vision of a plastic free christmas.
Ask your parents to help you find out which things (or gifts) are made of plastic or have plastic in them. You already know about a lot of them but many common things we use everyday have plastic in them but don't look like they do. For example, car tyres, flip-flops, paints, clothes, shoes and many more have plastics in them.
Ask your parents to submit the form below with a photo or scan of your letter or pictures (or both). The best entries will win prizes.
Find a letter to Santa from a 6 year old girl, Moksha, who has asked for a plastic free gift, this Christmas.
---
Ages 8-17
If you are decorating your Christmas tree with non-plastic decorations, take a photo and send it to us using the form below OR ask your parents to do so. The best decorations and the most creative/innovative ideas will win prizes.
You or your parents can do some searches to see which decorations are made of plastic so that you know what to avoid. You can be really creative with natural materials, everyday things or other non-plastic decorations to decorate this Christmas.
OR
If you are not decorating a Christmas tree but exchanging plastic-free gifts this Christmas, write to us and share photos of these as well. The best plastic-free gifts or gifts supporting good causes will win prizes.

YOU CAN DO BOTH OR EITHER.
---
Adults and organisations (students 18 and over, parents, staff, nursery/school/colleges)
If you are organising or participating in Christmas with the least environmental impact;
EITHER
Make a brief video telling us what all you are doing, emphasising on your plastic-free initiatives, upload it on Vimeo or YouTube and share the public link in the form below.
OR
You can also write to us and send photos, using the form below, if you cannot make a video.
YOU CAN DO BOTH OR EITHER.
The best initiatives will win prizes.
Prizes
Every participant will receive a certificate of participation via email.

Winners and runners-up for each category will be featured on our website and social media accounts with millions of visitors from over 100 countries and in our press release to UK press and media.

Winning letters, photos, and videos will be delivered to the UN Climate Change Conference 2022 (Egypt).

Winners and runners-up will get gift vouchers and certificates – a total of over £500 worth of gift vouchers are up for grabs.
Rules
Open to UK residents and organisations only.
We must receive entries for the competition by midnight, Friday 24 December 2021.

Please don't post your photos or letters to us, we're only accepting entries via the online form and we'll be unable to accept any materials sent in by post.

When taking a photo of your letter, gifts or Christmas tree, please make sure you use natural lighting wherever possible. Dark or unnatural light can result in distorted image colour/ appearance.

We aim to inform all winners within 28 days of the closing date.

All entrants under 18 years of age should ask permission from a parent or guardian before entering.

Prizes are subject to availability. If, in circumstances beyond our control, we are unable to provide the stated prize, we will try to arrange an alternative prize of a similar value. No cash alternative will be offered.

CBS reserves the right to cancel the competition at any time, if deemed necessary or if circumstances arise outside of our control.
Terms and Conditions and Privacy Policy apply.